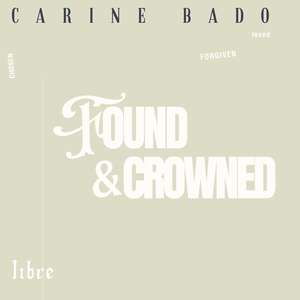 FOUND & CROWNED-GOSPEL SONG OF THE YEAR - 43rd GMA Covenant Award
BIOGRAPHY
Carine is a Bilingual Christian artist & songwriter, originally from Ivory Coast, who immigrated to Canada in 2007 and found in Manitoba a new home.  Blessed with the gift of music that was passed down, generation to generation in her family, she proudly embraced her passion for singing at the very beginning of her Christian walk.   Without a doubt, Music Ministry holds a critical place in her life, inspiring her to write her christian first song at age fifteen and many more down the road.
Citizen of Earth, from Contemporary Christian Music to French/Afro Pop and some Gospel in between, Carine grew up listening to a wide range of Christian music genres which makes her tone unique.  
Her desire is that her songs remind people of who they are, made in the image of the Creator. Her prayer is that her music helps others experience God's love, and nurture their connection with Him in their everyday lives.
---En Français---
Carine est une artiste et compositrice chrétienne bilingue, originaire de Côte d'Ivoire, qui a immigré au Canada en 2007 et a fait du Manitoba sa nouvelle terre d'accueil. De génération en génération dans sa famille, le don de la musique se partage entre les siens. Elle embrasse fièrement cette passion pour le chant au tout début de sa marche chrétienne.  Sans aucun doute, cet appel devinet un vocatione l'inspirant ainsi a écrire son premier chant à l'âge de quinze ans et bien d'autres plus tard. 
Citoyenne de la Terre, de la musique chrétienne contemporaine à la pop française/afro et un peu de gospel entre les deux, Carine a grandi en écoutant un large éventail de genres de musique, ce qui rend son ton unique. 
Son désir est que ses chansons rappellent aux gens qui ils sont fait à l'image du Createur! Sa prière est que sa musique aide les autres à expérimenter l'amour de Dieu et à nourrir leur connexion avec lui dans leur vie quotidienne.