BIOGRAPHY
Carine is a Bilingual Christian artist & songwriter, originally from Ivory Coast,  residing in Winnipeg, Manitoba for the past twelve years.  Blessed with the gift of music that was passed down, generation to generation in her family, she proudly embraced her passion for singing at the very beginning of her Christian walk.   Without a doubt, Worship Ministry holds a critical place in her life, inspiring her to write her first song at age fifteen and many more down the road. Ever since she has been involved in the Music team of every church, she was planted in. 
Citizen of Earth, from Pop Rock to French/Afro Contemporary and some Gospel in between, Carine grew up listening to a wide range of Christian music genres which makes her tone unique.  
Her desire is that her songs remind people of who they are: beautiful, kind, strong, and smart... Her prayer is that her music will help others experience God's love, and nurture their connection with Him in their everyday lives.
.
SECOND CHANCES -NEW RELEASE
AT YOUR FEET - STREAMING NOW
PERFECTLY MADE- OFFICIAL VIDEO
YOU LEAD ME - Official Video
YOU LEAD ME (SINGLE)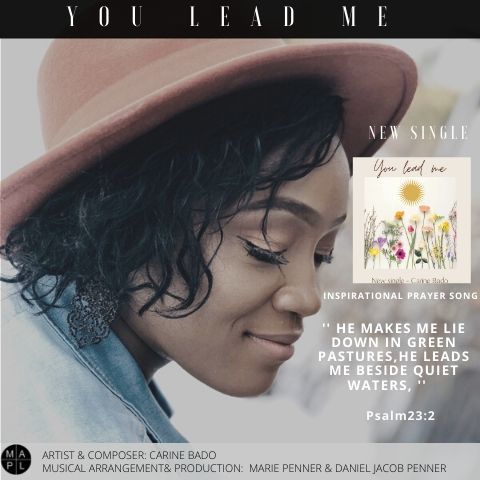 You lead me
Available on all platforms
 There couldn't have been a better time to share this song, other than today. Although it is a dark time for many nations around the World, there is still Light breaking through the shadows in every household, Hope rising up, Peace invading every heart ,as we believe that this too will pass and Freedom soon we shall celebrate. 
'' You lead me'' is an inspirational prayer song based on Psalm 23. 
My hope is that this song lights up your day, your month, your year; knowing that Our Lord leads the way.
 Featured on CHVN (Local christian radio)
''Carine Bado, a singer-songwriter from Winnipeg, intended for her new song, "You Lead Me" to be released on her birthday, which happens to be in March, right at the time Manitobans saw the start of COVID-19 changes. ''
Taylor Brock- CHVN Radio
SAYS THE LORD- OFFICIAL VIDEO
A EMMANUEL IS HERE( CHRISMAS SINGLE)